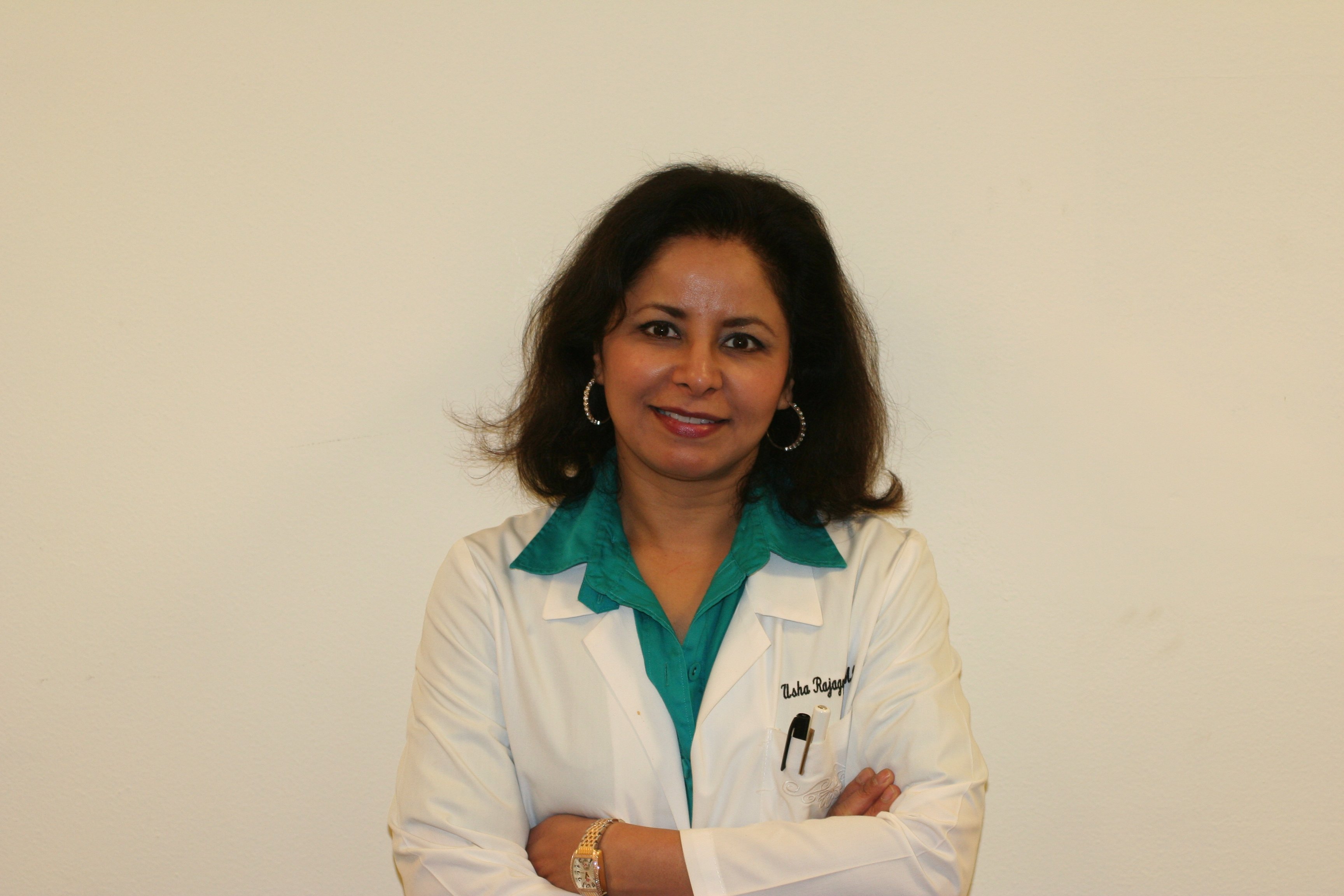 Dr. Usha Rajagopal is a Board Certified Plastic Surgeon well known in the San Francisco Bay area for her compassionate care. She has been with the San Francisco Plastic and Laser Surgery Center for over twenty years, and in this capacity, she has seen over 30,000 patients for procedures such as breast and nose augmentation and reduction, Mommy Make-overs, and other procedures of the face and body.
Education 
Dr. Rajagopal received her undergraduate and medical doctorate degrees from the University of Texas. As an undergraduate student, she majored in Biological Sciences. Her M.D. comes from the University of Texas Southwestern Medical Center at Dallas. She completed Residency and her Research Fellowship also in Texas, before moving to California for her final Fellowship with the University of California, San Francisco's School of Medicine.
Within U.C.S.F.'s program, Dr. Rajagopal deepened her specialty in plastic and reconstructive surgeries. When she completed the fellowship in 1995 she began serving clients in the San Francisco area through her practice, the Francisco Plastic Surgery and Laser Center which is located in Union Square, San Francisco CA.
Medical Practice
Over the last twenty plus years, Dr. Rajagopal has worked with many clients to help them achieve the appearance which they desire. She and her team use both traditional and innovative methods including CoolSculpting for non-surgical fat reduction and SmartLipo for laser-assisted liposuction.
As the Medical Director of the San Francisco Plastic Surgery and Laser Center, Dr. Rajagopal oversees a staff of professionals who assist her in serving clients. The center offers a wide range of procedures for both men and women of all ages. The procedures range from non-invasive cosmetic procedures such as skin care for acne treatment all the way to invasive surgical procedures.
Included in that range are procedures such as laser treatments for hair or tattoo removal, collagen injections, and Botox injections. Surgical procedures can be very comprehensive, like the Mommy-Makeover which incorporates several different operations into one package. Dr. Rajagopal and her staff are happy to offer all of this at one location, where even the most intensive surgeries can be performed in-suite.
Dr. Rajagopal is passionate about using cutting edge technology within her practice so that her clients are given the best possible options for treatment. She and her staff use Vectra 3D imaging to help patients visualize the shape of the body after an offered procedure. This technique can help a person discover if a nose or breast reduction or augmentation, or other procedure, will deliver the desired effects. Through this method, Dr. Rajagopal seeks to ensure that her clients are thrilled with the final outcome of the procedure.
Unique Perspective
Dr. Rajagopal believes that women who have a positive body image can feel empowered to reach their goals and dreams, be that within the career, health, or relationships areas of life. She works with women to find the right procedures that will deliver their desired body shape. As a woman and experienced surgeon, Dr. Rajagopal delivers a unique perspective about plastic and cosmetic surgeries and can guide her patients towards procedures that will give them the sense of satisfaction that they desire.
Sharing Knowledge
Due to her skills and experience as a plastic surgeon, Dr. Rajagopal has been called on as an authority on many occasions. Her advice and expertise have been featured in various media outlets, including San Francisco's channel KRON 4 and national publications Readers Digest and Marie Claire. She contributes plastic surgery related content regularly to Health Line, a website that provides medical, surgical, and health advice to the public. As an authority figure, Dr. Usha Rajagopal can help women, in particular, understand the options that are available to them through cosmetic and plastic reconstructive surgeries.
In addition to bringing cosmetic surgery awareness to the public, Dr. Rajagopal is also very active within medical professional circles. She is regularly a speaker at conferences for Plastic Surgeons. She also contributes to ongoing medical research through contributions to clinical trials. Furthermore, she has conducted her own research and published the results in the Journal of Plastic Surgery.
Specialties
Dr. Usha Rajagopal performs a wide variety of plastic and cosmetic surgeries. Among her specialties are the breast augmentation with saline or silicone implants, labiaplasty, and rhinoplasty. Dr. Rajagopal also honors many requests for male breast reduction, lip injections, and vaginoplasty.
Certifications
Dr. Rajagopal is certified by the American Society of Plastic Surgeons, which is the highest and most respected organization to offer board-certification in her field. She is also an active member of the The American Society for Aesthetic Plastic Surgery (ASAPS) as well as the California Society of Plastic Surgeons (CSPS)
Conclusion 
Dr. Rajagopal is committed to providing her clients with the best, most ethical, most advanced care possible. She works with a highly trained staff to conduct procedures daily that help people feel and look their best. She is board certified by the most reputable organization of plastic surgeons and is looked to as an authority figure within her field.