Dr. Usha Rajagopal reviews can be found on many sites.
If you're searching for the San Francisco Bay Area's premiere plastic surgeon, you've come to the right place. Don't take our word though, read what real patients have to say about their experiences with Dr. Usha. If Yelp isn't your thing, or if you want to do some cross referencing, no worries. Dr. Usha Rajagopal reviews can be found on a number of reputable sites. See below for some sample review and to find links to read many more.
Dr. Usha Rajagopal Reviews on Realself.com updated April 2015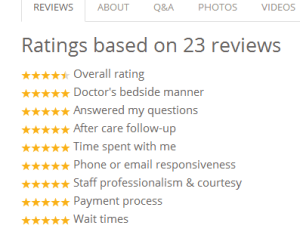 She's awesome. I'll update this as I get my procedure done. But listen a consult is free and she'll keep it honest with you. Do it for you.

I couldn't have picked a better surgeon than Dr. Usha Rajagopal. Her bedside manner was more than amazing. She made sure that I understood all aspects of the surgery, she made me feel comfortable and secure the whole way through. I highly recommend her for any surgery.

Choose Dr. Usha Rajagopal because she's the best plastic surgeon! You're wasting your time if you're trying to find a better plastic surgeon. If I could give her more than 5 stars I would. I was so nervous and stressed but she made me feel so comfortable. She truly is great. I had a breast lift and augmentation. I was booked right away for a consultation with her and surgery the following week! Can't wait for my follow up appointment next week. Dr. Rajagopal never made me feel rushed and answered every single question I had! She went over the whole procedure with me so I knew exactly what to expect. She is so knowledgeable and such a great person as well as a great doctor.
Find more Dr. Usha Rajagopal reviews from her previous and/or current patients at Ratemds.com or Yelp.
If you like what you've read, and want to schedule a consultation with Dr. Usha, give The San Francisco Plastic Surgery and Laser Center a call at (415) 392-3333.
Comments Off

on Usha Rajagopal Reviews