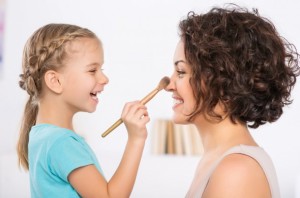 Cosmetic surgery has been no stranger to controversy through the years. As certain procedures have become more popular, they have also become more criticized and debated over. When boob jobs (aka breast augmentations) gained popularity in the 90's they were the center of a controversy and a common topic, not just in the media, but in social circles. More recently when butt lifts and butt enhancements became more popular, guess what happened? Yep. They became a highly talked about and debated topic and even became the center of some Twitter wars. Now, especially in the San Francisco Bay Area, Mommy Makeovers are rapidly gaining popularity. Just as you may have guessed, with an increase in popularity came an increase it opinions both for and against.
The heat is rising on this big debate now "Do mommy makeovers make for bad mommies?" We turned to Melissa Chapman at SmartBeautyGuide.com to help address the controversy over mommy makeovers possibly having a negative effect on our kids. Here's a preview of Melissa's article:
"If anyone knows a thing or two about others' needs before their own, it's a mother. As one myself, I basically sacrificed my body when I decided to take on the completely awesome responsibility of being pregnant. I did everything I could; swore off coffee, shellfish, I only slept on my side, I quit wine, and well, I essentially became the most anxious and crankiest version of myself for the 10 months of pregnancy and the six months following because I chose to breastfeed. If you don't believe me, just ask my husband, who had the unenviable task of keeping me company during those long, exhausting months as I admonished him for "getting me in this situation in the first place." Ultimately, I just wasn't cut out to be one of those happy-go-lucky pregnant ladies.
I, for one, feel that any mom who has the desire to get cosmetic surgery to change what pregnancy may have altered should do so and apparently Dr. Mark Solomon agrees. In fact, Dr. Solomon, a board-certified plastic surgeon based out of New York, believes that women who want to get cosmetic surgery post pregnancy should, first and foremost, free themselves of any guilt.
"I tell patients that cosmetic surgery is a gift to themselves and that there should be no guilt if they have earned it," says Dr. Solomon."
Read the full article HERE and decide for yourself, do mommy makeovers send the wrong message to kids.
We tend to agree with Dr. Solomon. First of all, and to put it simply and frankly, it's none of anyone else's business. Mother's make so many sacrifices for their families, especially their children. Of all people, they have earned the right to do something for themselves. The beauty of a mother choosing to treat themselves to any number of mommy makeover procedures is that if the procedures bring happiness to the mom, this will inevitably make their families and their children happy as well. Like almost anything in life, what we chose to do in our own lives and to our own bodies should not be up for debate. We know what's best for us, and we should not be made to feel guilty for making the right decisions for ourselves. If mommy makeovers make women happy, then more power to them.
If you are considering a mommy makeover procedure, we'd love to be there to answer any of your questions. The San Francisco Plastic Surgery and Laser Center is in the business of helping people. Dr. Usha Rajagopal and her all female staff provide a welcoming and comfortable environment in their Union Square clinic located in beautiful downtown San Francisco. Dr. Usha brings a woman's insight and sensitivity along with more than 20 years of experience to her patients. She believes that an informed patient is the best kind of patient. Click here to learn more about the different Mommy Makeover procedures on offer. Remember, only you know if the procedure is right for you and if the plastic surgeon is right for you.
Head here if  you want to know more about other various procedures, offered by Dr. Usha Rajagopal at the San Francisco Plastic Surgery and Laser Center.
If you have more questions or would like to schedule an appointment for a consultation with Dr. Usha Rajagopal, give us a call at (415)392-3333.
Comments Off

on Does Choosing Cosmetic Surgery (Particularly 'Mommy Makeovers') Send the Wrong Message to Our Kids?